Dearest Peaches,
Great news X 2!
The last time I posted, two days ago, was a rather lengthy discussion around
the selection of a new Pope.
Well excitingly, at around 6pm (UK time) yesterday evening, Vatican watchers witnessed telling white smoke emit from the chimney of the Sistine Chapel. Just over an hour later it was proclaimed 'Habemus Papam!' (
we have a Pope!
). Cardinal Jorge Mario Bergoglio, becoming Pope Francis I, appeared to rapturous applause on the balcony of St Peter's Basilica.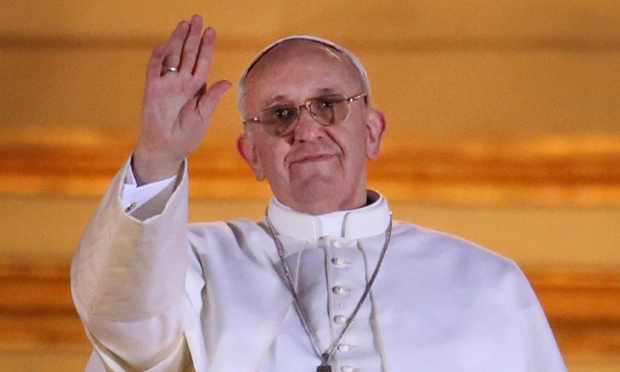 Photograph: Peter Macdiarmid/Getty Images - via Guardian.co.uk
I have to say, for a non-catholic, I was totally gripped, as I have been to the whole mysterious process.
In a moment, my thoughts on this appointment.
But first, exciting news #2!!
I have my first follower! (Hello!!)
I quietly made this blog live a couple of days ago and spent most of yesterday working out how to add the 'followers' button, since Blogger (in conjunction with Google +) has now removed the easy way to do this that I've used on my previous blog. Honestly Google, have you heard the saying "If it ain't broke"?....obviously not!
Anyway, that now resolved, I have added every method of following that I could possibly find to ALP and am told I have TWO followers! I had to add
myself
in order to figure out Google+ but it looks as if I have another follower too....so Bonjour et Bienvenue à 'Avoir la Peche'!
Now, back to this fella.....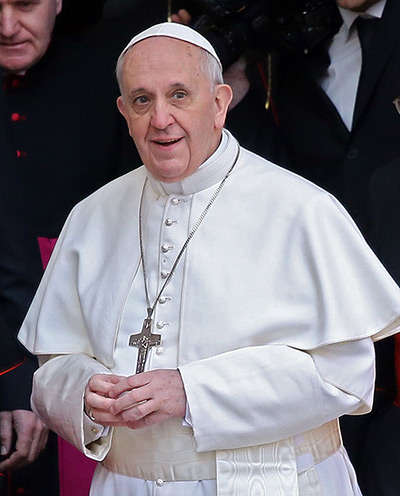 Photograph:
Alessandro Bianchi/Reuters - Via Guardian.co.uk
Well he certainly seems like a happy chappie...and I was completely sold on the humble, modest and personable way in which he greeted thousands of people who had come to welcome him in St Peter's square yesterday evening.
But how does he shape up to my thoughts, during the Conclave, on what would (
and should
) win
'Pope Idol'?
Let's see....
Age?
I said: It is thought that the cardinals might go for someone who is younger, since Pope Benedict retired citing heath issues of old age.
Well, Benedict was 78 when elected, Pope Francis is 76. So, not correct on that one - since he was one of the older cardinals.
Though, Pope Francis is apparently in fine health for his age, despite having
lived for over 50 years with only one functioning lung!
Scandal?
Pope Francis is embroiled in neither the Vatileaks scandal nor the abuse scandals that have rocked the Catholic church.
I said:
The Cardinals will need to choose a louder, more charismatic figure - someone who is able to use their popularity to dig the Catholic church out of both of these scandals with its head held high.
Whilst serving as Archbishop of Buenos Aries, Cardinal Jorge Mario Bergoglio
turned down the formal, palatial Bishop's residence in favour of a modest apartment cooking his own food and travelling to 'work' on the bus.
This smacks to me of charisma, but not of the in your face, celebrity kind. A more modest kind that might ingratiate him with his people and seemingly one which he might impress upon the doctrine of the church. He is not a 'Vatican insider' (not holding many positions within the powerful 'Curia' of the church) - which hopefully will bring more benefits than troubles for him. Although he might not be familiar with the traditions and politics of the Curia, it is hoped that this might actually be beneficial and lead to his constructive reform of the Curia as a priority.
Of course, this is all not to say that there is no scandal in the new Pope's past, which the media have spent at least the past ten hours desperately trying to scrape up. So far they have patched together an argument with Argentina's prime minister over gay rights and something in the past regarding the keeping of prisoners under the military junta....but honestly, who that has spoken up and put themselves in a position of any authority is without stories that might excite this world's crazy modern media?
Scholarly or Pastoral?
It looks to me that Pope Francis would perfectly fit what I had suggested, since on balance his strengths lie in the pastoral. Of course, he has the necessary knowledge and scholarship to hold this position. But, what clearly makes him stand out from his predecessor already is his pastoral experience, the like of which enabled him to introduce himself so humbly and personally yesterday evening. His rejection of the trappings of Archbishopdome exemplifies his ability for pastoral management. Through this gesture he has shown his humility and aligned himself more to the poor who make up such a percentage of his congregation and indeed the catholic church worldwide.
Nationality
Argentinian, of Italian heritage.
I am so pleased that the largest catholic population in the world have found their representation. It also bodes well for other nations outside of Europe. In my eyes this is both a just and encouraging gesture by the Catholic church.
Of course, the fact that Bergoglio is of Italian heritage would also sit comfortably for the Italian cardinals who, as well as knowing they are electing a Pope, would also be aware that they are appointing the 'Bishop of Rome'.
Conservative or Moderate?
Pope Francis ultimately falls under the umbrella of 'Conservative'. He is a Jesuit and believes in true, pure Catholic doctrine - taking the church back to its simple roots.
However, he does advocate the
use of contraception to prevent disease
so this is a big tick against my request for a Pope who would permit the use of contraception to curb deaths from HIV and Aids.
He has also said these encouraging words on unmarried mothers, which although do not cast him as a moderate, imply that there is room for discussion and a different take on such matters:
"In our ecclesiastical region there are priests who don't baptise the children of single mothers because they weren't conceived in the sanctity of
marriage
. These are today's hypocrites. Those who clericalise the church. Those who separate the people of God from salvation. And this poor girl who, rather than returning the child to sender, had the courage to carry it into the world, must wander from parish to parish so that it's baptised!"
And, of course, the most important question. Will I still be able to show people the time when I met 'The Pope' on the steps of this church?
Well, YES!...I'd say so!
But, more fabulously than that...this very church 'Santa Maria Maggiore' was where Pope Francis chose to take his first private prayer this morning. Here he is leaving by a different door: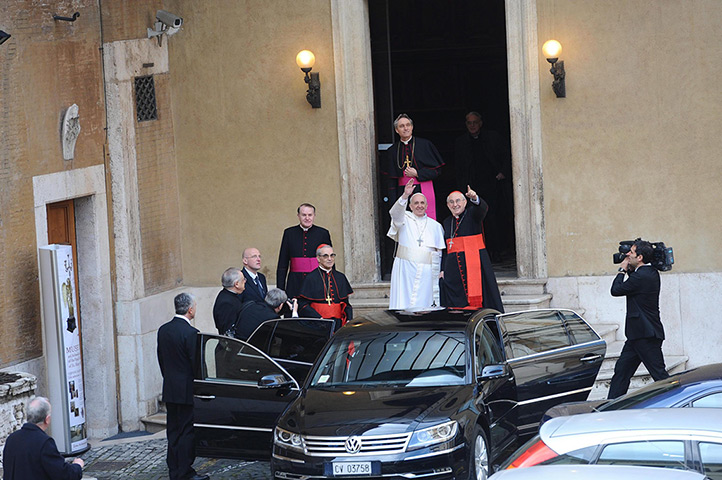 Photograph:
Ciro Fusco/EPA - Via Guardian.co.uk
If he is a humble and modest as he appears to be so far then this was an absolutely perfect choice. The Santa Maria Maggiore is outside of the walls of the Vatican, in Rome itself. It was opposite our hotel and such a magnificent building, but in a totally meek way. A million miles away from the gilt and marble encrusted St Peter's Basilica. I wrote a report on Trip Adviser encouraging people to visit this beautiful church, with its stunning ceiling mosaiics and open, clean central space - but most of all to enjoy the serene atmosphere of what is clearly still a daily working church. I doubt it will be quite so easy to visit next time we are in Rome!
So, everything seems to be working out great so far.
Pope Francis I wish you all the luck you deserve in your mammoth new job.
Oh, and your wedding invitation is in the post!
Mlle Peche x