Bonjour les petits,
So I thought I'd treat you to a little fantasy trip to my favourite parts of blogland, where I like to disappear for inspiration and, in many cases, dream of living a life in these people's shoes!
So, grab a cup of tea, treat yourself to a biscuit & let's go......
D'abord arréter,
Sara In Le Petit Village: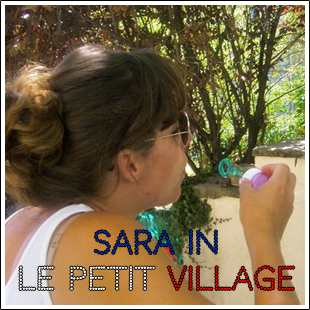 Note: For some reason blogger is not allowing me to link to Sara's blog so please copy and paste as follows:
http://www.sarainlepetitvillage.com/
I'm not entirely sure how I came across Sara's fantastic blog, but I immediately loved it. It might have been the fact that we share the same name (give or take an 'H') or that it was deep winter and sunny days of French joy was just what I needed, but I was instantly addicted. I spent several days reading back over three years of Sara's blog, written in her fabulously easy to read quirky style. Sara writes about her days in the mystery Le Petit Village (or LPV...now the NLPV, New Le Petit Village....still with me?). Originally from Texas, she moved to the South of France in 2009 to be with 'the boyfriend', now 'the husband'. With her cute dog 'Fifty' and a cast of quirky characters, Sara lives a mightily enviable life. Your envy will grow as you see Sara visit a myriad of beautiful places, including my favourites Avignon & Cassis, eat a tonne of delicious cheese & enjoy a good bottle or two of vin Francais without seemingly ever putting on a pound! You may envy, but you can never dislike Sara as she's such a friendly blogger and the fact she writes nearly every day is brilliant, to get that daily fix of French life!
Prochain arret...la Dordogne...for 'Little Buckles'
(Photo Credit: Andrea Hornbuckle)
'Little Buckles' is Andrea Hornbuckle's blog about her life in France with her husband and two (soon to be three) utterly adorable children. Andrea mainly documents her life in photos, beautiful, well presented snapshots of family life. She has such a fabulous sense of style and collects gorgeous vintage objet d'art that she sells in Etsy shops 'Rhubarb & Apples' (for grown-ups) and 'Petit Bonhomme' (for little ones). Plus there's a link to her incredibly talented husband's website for his professional joinery. All topped off with a talent for fabric craft, in particular dressmaking for her little ones....this is the place I go for daily inspiration!
Now, did I mention that Mr Peach & I are to be wed in July?!.....well this lucky lady has the pleasure of trying to make my completely unphotogenic self look just peachy...
(Photo Credit: Sarah Jane's Photography)
I first met Sarah when I was bridesmaid at my friend's wedding, at which she was photographer. Even before I'd seen a photo I just loved the way she worked, dotting around in all the right places catching precious moments, but never getting in the way or pushing people around, as I've sadly seen other wedding photographers do. And then when I saw the photos she takes....sigh....magical! Sarah is such a lovely person too and literally as soon as Mr Peach popped the question I knew who we would be turning to. My fellow bridesmaid from that initial wedding did too! Sarah is always in high demand - she's booked up already for 2013 weddings, which is testimony to her wonderful work. Her blog is clean and sweet, where she documents her wonderful photoshoots - not just limited to weddings I might add! We have a pre-wedding shoot in a few weeks and I just can't wait! In the meantime I'll continue to ogle over her blog on a daily basis and I think you should too!
Et le dernier mention de 'W' mot pour le dernier blog de la journeé ......Bridal Musings:
When we got engaged my excited friends asked me if I would like the 'wedding bible'...a collection (well a huge box) of wedding magazines collected by friends who have consecutively married over the last few years. I politely said a big no, on the basis that I wasn't going to look in one wedding magazine as I firmly thought (and still do) that they simply make you think you 'need' things for your wedding that you really don't (like favours & chair covers...say what?). I was doing really well with my stubborn manifesto right until I discovered the world of wedding blogs (& pinterest)...big oops!
Wedding blogs....there are thousands of them! But, after hours of research I've whittled it down to this one, Bridal Musings. Written by and English girl originally based in the UK, the blog has now moved with her to the U.S.A. It has just the right balance of real weddings to inspire, DIY projects, recommendations, tips, pointers to other wedding inspiration online...and is updated nearly every day to keep your wedding excitement suitably well fed.
There's loads of other blogs I like to look at but these are my current daily favourites. There's only one thing missing.....I must go and hunt down some French language bloggies to help me on my Francais way!
Oh I also bought myself this little peachy delight whilst I was writing. What do you think?

I love playsuits in summer - this one will be coming on our mini-moon!.....more on that soon.

So, how's that cup of tea getting on? Time for another I think....

Adieu, Mlle Peche. xx